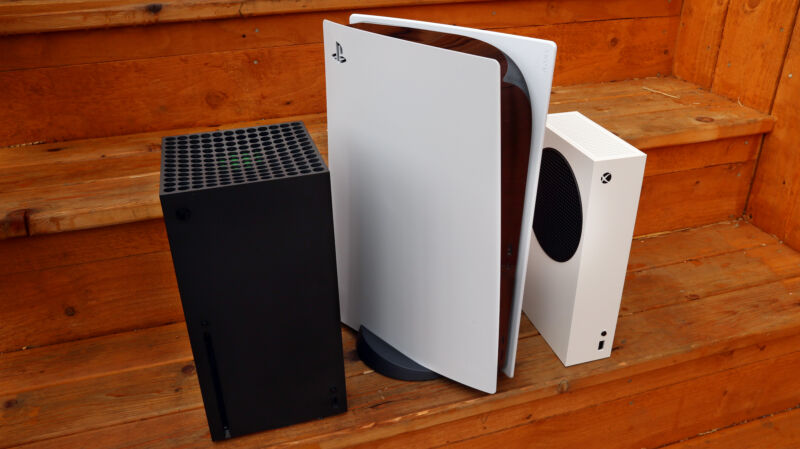 Though this year's newest consoles have only been on store shelves for less than two weeks, we've already published tens of thousands of words about the Xbox Series X/S and the PlayStation 5. Between months of tech previews, picture-filled unboxings, comprehensive reviews, coverage of some of the biggest launch games, and more, you could spend all day doing nothing but reading our detailed thoughts about Sony and Microsoft's new consoles.
If you don't have the time for all that, we understand. That's why we've put together this handy, head-to-head summary comparing the most important features of both systems directly. By the end, we hope you'll know if it's time for you to upgrade your console, and which path you should take if it is.
Hardware design

Sam Machkovech


Sam Machkovech


Sam Machkovech


Sam Machkovech


Sam Machkovech


Sam Machkovech


Sam Machkovech


Sam Machkovech


Sam Machkovech
Both the PS5 ($499 with disc drive, $399 without) and the Xbox Series X ($499) are really big. The Series X astounds as a chunky, minimalist cuboid, with a minimum 6″ clearance on any of its sides—making it a nightmare for an average entertainment center's shelves. The PS5 gets its minimum clearance down to 4.25″, but that comes at the cost of being 50 percent bigger than Series X in total volume. Once you find a place to put either, the other differences boil down to your aesthetic preferences: black monolith with mild green accents, or a curvy popped-collar tower?
Both are quiet (excepting discs spinning in the disc drives) but the PS5 has a slight discernible fan noise, whereas Xbox Series X is literally whisper quiet. While we've seen reports about "coil whine" affecting certain PS5 customers, we haven't been able to duplicate that noise issue.
While those two consoles' cooling systems are not identical, their silicon makeup is similar enough to explain why they draw very similar amounts of power. Each maxes out at roughly 205W at next-gen games, though they run closer to 190W on average.
Xbox Series S ($299), meanwhile, is as quiet as its Series X sibling (owing to, among other things, an identical 12″ fan system), while shrinking to a form factor on par with 2017's Xbox One X. The longer we've sat with it, the more we've grown to like its "Bluetooth speaker" design of a black ring on an otherwise white box—especially as slotted into a crowded entertainment center. Its power draw is also phenomenal, never exceeding 90W on the console's highest-drawing games.
Hardware power
Put aside all the talk of GCN compute units, RDNA 2 cores, Zen 2 Jaguar cores, and the like. When it comes to running actual games, the Xbox Series X and the PS5 are practically indistinguishable. Third-party titles available on both systems look and run almost identically, and you'd be hard pressed to pick one from the other in blind tests.
Series X power usage
Rest mode
16-30.5W
Rest mode (w/ download)
33-55W
Idle on menu
62W
Netflix
64W
Playing 4K Blu-ray
64-76W
Gameplay (Spelunky X360)
101-104W
Gameplay (Gears 5 XSX)
170-198W
Installing Dark Souls II from disc
70 – 71.5W
Playing Dark Souls II (w/ disc in drive)
103-105W
Series S power usage
Rest mode
8.6-17.5W
Rest mode (w/ download)
16-18W
Idle on menu
31W
Netflix
40W
Playing 4K Blu-ray
n/a
Gameplay (Spelunky X360)
53W
Gameplay (Gears 5 XSS)
50-85W
Installing Dark Souls II from disc
n/a
Only one title proves an exception at this point: Assassin's Creed Valhalla. While both PS5 and Xbox Series X target identical graphical settings and not-quite-4K resolutions (and they look good doing so), its Series X version currently struggles to lock to 60fps as well as PlayStation 5 does. That's not enough data to declare PS5 the "stronger" console, and we'll be coming back to that question as we compare more third-party games in the coming months.
Compared to their predecessors, games on the new consoles do look better, taking advantage of higher resolutions and graphical techniques like ray tracing (which is especially noticeable in reflections). But depending on the game, the increase in fidelity is more marginal than you might expect for a $500 upgrade. The seven-year-old hardware Sony and Microsoft are looking to replace has aged better than you might have expected, and the mid-generation upgrades that came out in 2016 and 2017 continue to hold up quite well.
Where you'll see a huge jump in 2020's consoles is in frame rates. Games like Yakuza: Like A Dragon, Spider-Man: Miles Morales, and Assassin's Creed Valhalla look quite similar when comparing screenshots across "last-gen" and "next-gen" systems. But the bump from 30 fps on older consoles to 60 fps on newer consoles makes a huge difference when seeing these games in motion.
PS5 power usage
Rest mode
28-32W
Rest mode (w/ download)
42-45W
Idle on menu
67W
Netflix
71-73W
Playing 4K Blu-ray
76-79W
Gameplay (Downwell PS4)
70-76W
Gameplay (Tony Hawk 1+2 PS4)
116-130W
Gameplay (Miles Morales PS5)
156-205W
Installing Knack from disc
124 – 134W
Playing Knack (w/ disc in drive)
116-127W
In the case of some games, like the PS5-exclusive adventure of Demon's Souls, that extra 60 fps fluidity contributes to atmosphere in incredible ways. But even that game is mechanically identical to its source material, which dates back to PS3. And another Sony exclusive, the surprisingly charming Sackboy: A Big Adventure, is so similar between its PS4 and PS5 versions that we recommend anyone missing out on new consoles rush to play that family-friendly game on their last-gen machines.
All of the new consoles enjoy blistering fast loading times, thanks to the now-standard PCIe 4.0-rated NVMe storage. It's not quite a return to the "hit power and start playing instantly" days of cartridge gaming, but it's close.
The PS5 appears to have the loading time edge in some cases (like the aforementioned Assassin's Creed Valhalla), but the differences across next-gen consoles are minor at this point. Meanwhile, Xbox Series enjoys the benefits of Xbox Quick Resume, allowing near-instant swapping from game to game. on the PS5, you have to endure a (quick) load from the main menu when swapping to a new title, rather than resuming directly from where you left off.
As of press time, though, some Series X/S games choke on this Quick Resume feature. We hope Xbox fixes these edge cases soon, because even with faster storage, PS5 feels sluggish in comparison without its own version of Quick Resume.
One important note: Xbox Series S has been advertised as able to play Series X's up-to-4K games, only pared down to resolutions ranging from 1080p to 1440p. In action, that sales pitch is mildly misleading, as visual downgrades from X to S also include reductions in shadow resolution, level-of-detail (LoD) scaling, ambient occlusion, and other features, depending on the game. For the most part, we've seen identical frame rates between Series X and Series S, which is arguably a bigger deal, but Assassin's Creed Valhalla remains a striking exception: only 30fps on Series S, compared to 60fps on Series X. Until we compare more next-gen Series X/S games, this issue remains a huge asterisk for the $299 Series S.
Controllers
PS5's DualSense controller is a revelation. Its combination of precise, location-specific rumbling, variably resistant triggers, and high-quality speakers adds a completely new and unique texture to games that support it. The slight redesign of the controller's shell is its own upgrade, as well. Say hello to the most comfortable PlayStation controller ever made, even with every newfangled bell and whistle disabled.
But how many games will actually support the newer gimmicks? As of press time, not many. Spider-Man: Miles Morales is perhaps the most glaring example, given that it's a first-party PlayStation exclusive that makes only marginal use of the DualSense for some sound effects. The triggers don't vary based on superpowers like web swinging or electricity, and the controller's precise rumble features aren't really leveraged. How did Insomniac Games drop the ball on delivering the literal tingle of Spidey sense?
Call of Duty: Cold War is a more interesting example, given that it's a multi-platform game yet offers exclusive DualSense features. In combat encounters, different guns feel different for the first time we can recall on a console, thanks to the combination of reload and gunshot vibrations and the varying resistance on triggers based on whatever gun you're aiming or shooting. In campaign modes, it's a clever tweak for '80s espionage battling. Yet in online modes, the trigger resistance trickery changes how quickly you can respond to your foes, so we found ourselves disabling it.
As time goes on, we imagine we'll see case-by-case emphasis on one, or all, of DualSense's funky features—but they don't otherwise change how you engage with a game mechanically (and can all be disabled via system menus, for accessibility's sake). This makes Sony's "DualSense-only" philosophy for PS5 games a bit obnoxious; older DualShock 4 controllers have the exact same buttons (and even share quirky features like motion sensitivity and a built-in speaker), but they only work on PS5 if you're playing backward compatible PS4 fare.
Things are simpler on the Series X/S side. Each Xbox Series X/S console ships with a mildly updated gamepad, with tiny tweaks to its curves and texture and a new dedicated "share" button for screenshot and video capture on the fly. Otherwise, the new controllers are the same in terms of features and layout—which at least means every existing Xbox One controller option (including racing wheels, fight sticks, and the Adaptive Controller) just plain works on Xbox Series X/S. Sony insists that PS4-compatible racing wheels and fight sticks are compatible with PS5 games, but we haven't been able to test this conclusively.
Backward compatibility
Microsoft has a distinct edge here. In addition to playing every non-Kinect Xbox One game, the Series X/S can also play over 600 Xbox 360 titles and almost 40 titles many own from the original Xbox. What's more, many of these titles get significant upgrades on Series X. If a game received an Xbox One X patch, those boosts carry forward as a bare minimum (usually with resolutions approaching 4K).
Other games have gotten their own Series X/S-minded enhancement patches to boost resolution and frame rate, while backward compatible games with unlocked frame rates typically run at a maximum of 60fps. One of these, this year's Crysis Remastered, jumps from "utter mess" to "60 fps surprise" when moved forward from One X to Series X, even without a Series X/S-specific patch.
Unfortunately, Xbox Series S's backward compatible boosts are identical to the versions on Xbox One S—which sometimes run as low as 900p with weak frame rate gains. Certain backward compatible games from Xbox 360 and OG Xbox will jump to 1440p resolution on Series S, at least. And both consoles apply a welcome layer of anisotropic filtering to older games.
Auto-HDR on Xbox Series X/S is another wonderful delight, as it applies a machine learning model to older software to boost luminance information without watering down those games' original 8-bit color coding. The results range from marginal improvements to outright revelations, with Geometry Wars Evolved 2 proving a must-see and must-play on the new hardware.
On the PS5, you can play old PS4 games (either via download or disc), but games from the PS3 or before are limited to the selection available on the PlayStation Now streaming service. PS4 games running on the PS5 load a bit faster but look pretty similar, especially when compared to the PS4 Pro. Some developers are rolling out patches to boost the frame rate, though, and the results feel fantastic in first-party games Ghost of Tsushima and Days Gone.
When it comes to game-by-game upgrade patches, Xbox streamlines the process a bit more than PS5 thanks to its "Smart Delivery" system. On the PS5, you have to find and select the correct game version in the "library" interface, in a manner that's a bit unwieldy. At the end of the day, you can indeed accidentally download the wrong version on either console thanks to how entitlements are shown on menus. This proved annoying to Tech Culture Editor Sam Machkovech, who has been battling Comcast's monthly bandwidth caps for the past few months.
Subscriptions
For $15 a month, Xbox Game Pass Ultimate is one of the best deals in gaming. It includes the ability to download and play nearly 350 console games from across the Xbox One and Xbox 360 catalogs, including a few Series X-enhanced games at the moment.
Crucially, that subscription includes access to any first-party Microsoft Studios titles the day they're released (including Halo Infinite, whenever it arrives), along with the extensive EA Play back catalog (meaning, one-year-old EA Sports games, the entire classic Mass Effect library, and so on). If you have a gaming PC, XGPU also includes over 200 Windows titles available for download (though the list overlaps with the Xbox list quite a bit).
You can even stream over 150 XGPU games to an Android phone via Xcloud (with streaming to iOS and desktop web browsers reportedly coming in 2021). But wait, there's more: the subscription also includes Xbox Live Gold, which provides access to online gameplay and extra free game downloads every month. And all these subscription games also benefit from Series X/S features like Quick Resume and Auto-HDR.
Sony's subscription offerings are more mixed. PlayStation Plus costs as little as $5 a month, but it's much more limited than Game Pass Ultimate. The baseline service comes with online play and couple of free game downloads each month. It also includes the PlayStation Plus Collection, which currently encompasses 20 of the PS4's greatest hits. That forms a nice instant collection, especially if you skipped the PS4, but doesn't really approach the breadth and depth of Game Pass.
Sony also offers PlayStation Now for an additional $60 a year. This mixed-delivery service offers over 800 titles from across the PS2, PS3, and PS4 libraries that can be streamed via cloud-connected servers to the PS5 (or a PC or PS4). It also includes 300 PS4 titles that can be downloaded for local play on the PS5. Not a bad deal, but the selection doesn't include any upcoming titles (unlike Xbox Game Pass) and has a decent amount of forgettable filler padding the list.
Storage
As games' install sizes balloon this generation, the initial usable storage space on each console really matters:
Xbox Series X: 802GB
PlayStation 5 (both versions): 664GB
Xbox Series S: 364GB
Thankfully, you can use external drives, connected via USB 3.1 cables, to install and play last-gen games (which each platform emphasizes via things like their subscription services). We absolutely recommend doing so, primarily because of what a pricey pain it is to add "next-gen" storage to any new console. On both systems, next-gen games cannot be played when installed on external drives (and in PS5's case, the next-gen games can't even be temporarily stored there).
On Xbox Series X/S, you currently only have one option to upgrade the internal storage capacity: a 1TB proprietary card made by Seagate, which is PCI-e 4.0-rated (as required by the Xbox Velocity Architecture) and costs a whopping $229. PlayStation 5 uses a standard NVMe 4.0 slot to support additional memory, which means you will eventually be able to add the same kinds of drives you can currently slap into modern computer motherboards. However, so far, Sony has deactivated that slot while it waits to certify existing drives for compatibility with PS5's read/write speed minimums. There's been no estimate for when that expansion slot will be enabled or when any drives on the market will be greenlit.
As another PlayStation 5 annoyance, that system only supports one external drive at a time, and those drives can't "archive" next-gen game files. Comparatively, we've connected four USB 3.1 drives simultaneously to both Xbox Series models, and these let users archive their next-gen games as a way to move files around when internal storage fills up. Sony says users can expect an update in the future to allow game archiving, at least, but we don't know how long that will take to arrive.
On the Series S specifically, managing the measly 364GB of available space for next-gen games feels like a last-gen chore. And as of press time, Series S owners only have the aforementioned $229 drive as an expansion option. Thus, you might consider waiting to buy that model until expansion prices come down, unless you can make peace with keeping just a few games at a time on the internal storage. As a second console in your home (perhaps given to a child as a gift), those limits might be easier to swallow.
Launch game library
Unlike previous console launches, neither system is really focusing on system-selling exclusives this time around. Almost every game currently available on the PS5 and/or Series X is also available in a highly similar form on the PS4 or Xbox One.
Aside from the enjoyable but short PS5 pack-in Astro's Playroom, the only real exception to this is the PS5 remake of Demon's Souls. That game is an amazing showcase for the PS5's graphical power, but mechanically, it's the same game that's been available on the PS3 since 2009.
There are a few ecosystem exclusives on both sides of the PlayStation/Xbox divide, though. PlayStation players get Spider-Man: Miles Morales, a well-written, well-paced sequel that offers well-worn comic book gameplay. Sackboy's Big Adventure is a well-designed, lighthearted multiplayer platformer that's great for families. But both are available on PS4, as well.
Thanks to a last-minute delay to Halo Infinite, the Xbox console ecosystem's 2020 exclusives are more paltry: A console port of Gears Tactics (which launched on Windows 10 PCs earlier this year), and a timed-exclusive update to 2017's Tetris Effect, which adds an admittedly addictive multiplayer mode.
There's a longer list of timed console exclusives on Xbox, but it's full of indie games that launched simultaneously on PC and a couple of "next-gen" ports. In Yakuza: Like a Dragon's case, Xbox Series X gets a 60fps mode before PS5 gets the same thing at some point next year. But if you own PS5, you can still play that game's PS4 version right now.
Upcoming game library
As usual, the vast majority of third-party titles will be available in largely identical forms on both Sony and Microsoft's new consoles going forward. The big differentiators on either side will be the exclusives.
Microsoft has indicated that most (if not all) Series X/S games for the next few years will also be available on the aging Xbox One hardware. Of all the upcoming titles listed on Microsoft's "Series X optimized" page, only a handful don't have an Xbox One version listed as well. And a few of those, like Pragmata, Resident Evil 8: Village, and STALKER 2, will be available on PS5 as well.
When it comes to true Xbox Series X console exclusives, the list so far includes Obsidian's Avowed, Rare's Everwild, Playground Games' Fable 4, Ebb Software's Scorn, Turn 10's untitled Forza Motorsport sequel, Ninja Theory's Hellblade 2: Senua's Saga, and the previously mentioned Halo Infinite. Most of those seem to be quite early in development, with few apparent guarantees for 2021 thus far. Aside from that, for the foreseeable future most other "Series X-enhanced" games will also be available on the aging Xbox One, though in a perhaps slightly less shiny form.
On the PS5 side, Sony is highlighting a few upcoming exclusives. Ratchet & Clank: Rift Apart is the closest one, promised for PS5's "launch window" with demos so far showcasing some cool effects based on quick-loading NVMe storage. PS5 owners will also get Destruction All-Stars in February, a melee-focused combat driving game, as a PlayStation Plus subscription giveaway.
Further in the future, first-party exclusives like Gran Turismo 7 and Horizon: Forbidden West will be coming, though we don't know when. Final Fantasy XVI will be a console exclusive on PS5 (also available on PC), as will Square Enix's mysterious "Project Athia." Returnal and Stray have also been announced as PS5 exclusives, but they're so early it's hard to know much about them. Bethesda's Deathloop and Ghostwire: Tokyo will come to PS5 first in 2021—and that temporary exclusivity was locked down before rival Microsoft acquired the publisher in September.
Is it time to upgrade?
Our answer? Only if you need the highest quality graphics and/or reduced load times and are willing to pay a premium for them. As usual, buying a console at launch means paying as much as possible for the smallest selection of games. If you can wait a year or two with your current-gen console, you'll end up paying less and having access to a much larger selection of truly next-generation games when you do upgrade.
A possible exception might be if you missed out on one console or the other in the current generation. Either system is an excellent chance to catch up on the exclusive games you may have missed over the last seven years, especially with subscriptions that make it easy to get quick, cheap access to a lot of those games.
If you've yet to purchase a 4K-ready gaming platform (and have a 4K TV), both systems are hard to beat as far as a price-to-performance ratio is concerned. You'd be hard-pressed to get a comparably powered PC at $499, especially if you're expecting PCIe 4.0 storage (and even then, such a PC wouldn't necessarily guarantee loading times as quick as either PS5 or Xbox Series X/S). Of course, closed platforms like PS5 and Xbox Series come with their own caveats, but they're easier to bear at this value proposition for combined CPU, GPU, RAM, storage, and industrial design.
If you upgrade, which one should you get?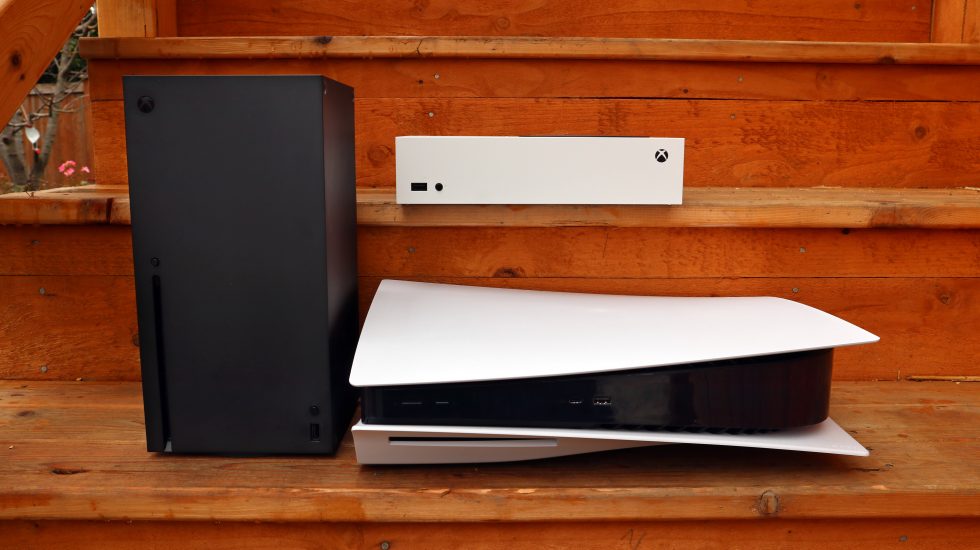 If you forced us to make the call based on which games are currently available, PS5 gets this month's nod. Demon's Souls is thrilling as an exhibition of next-gen graphical power, while 2020 PS4 exclusives like Ghost of Tsushima and Days Gone are a treat to play all over again with a PS5 bump to 60fps. And PS5's free pack-in game Astro's Playroom isn't just a four-hour, family-friendly jolt; it's also an incredible DualSense controller showcase. The rest of the month's best next-gen showcase games (Assassin's Creed Valhalla, NBA 2K21, Borderlands 3) are comparable on both consoles, and Microsoft's exclusive first-month games don't do the trick; instead, its sales pitch primarily works in 2020 if you've missed the last two years of admittedly great Xbox exclusives.
But you're not spending $500 for a single month of content, and we're curious how Microsoft's aggressive moves will pay off in the long term. Already, its Game Pass subscription options blow Sony's comparable services away in terms of high-quality gaming, and Microsoft's acquisition of quality studios will (hopefully) deliver even more solid first-party fare for subscribers in the months and years to come. In a world where $70 retail games (plus microtransactions) are becoming the norm, it's nice to spend $10 or $15 a month and get a ridiculous range of solo, co-op, and online games from the past and present.
Plus, if Series S truly catches on as a "next-gen, down to 1080p" box, that will net more players for the Xbox ecosystem—and history shows a generation's "best" console is usually the one with the most owners (and, by extension, the most games). Tying Windows 10 into the "Xbox" ecosystem doesn't hurt Microsoft, either. But Sony already has promising content in its pipeline, so all of our hopeful Xbox acknowledgements, plus praise for perks like Quick Resume, could drown in Sony's wake of first-party games.
Whatever the outcome, the lack of massive differences or issues with either platform at this point has us optimistic. Comparable AMD architecture in all consoles, along with solid games, services, and competition in the short term, lead us to believe that both PlayStation 5 and Xbox Series X/S will pay off in terms of content, fun, and reasonably priced power.