You're the coach of the winning team. You're giving your first on-field, post-game interview, then it hits you – a cold cascade of colored water. You've just been doused with electrolytes via the Gatorade bath. As a head coach, you're soaked, but as a bettor, you could really make some money at the sportsbooks by betting on the Super Bowl 55 Gatorade color.
This wager is one of the more popular betting options for the NFL's big game, along with the coin toss and anthem time, because it appeals to novice and seasoned bettors alike.
For Super Bowl 54, purple was the betting favorite for the Gatorade color after the tragic passing of Los Angeles Lakers great Kobe Bryant. Well, orange Gatorade (+800) ultimately was the beverage of choice poured on Kansas City Chiefs coach Andy Reid so sportsbooks have made orange the fave for Super Bowl 55:
What Color Liquid Will Be Poured on the Winning Coach of Super Bowl 55?

| Color | Odds |
| --- | --- |
| Orange | +160 |
| Red | +200 |
| Lime/Green/Yellow | +275 |
| Clear/Water | +700 |
| Blue | +800 |
| Purple | +1100 |
Odds as of January 31 at Bovada
What is the Super Bowl
Gatorade Color

Prop Bet?

A prop bet is a wager that may not directly correlate to the outcome of the game. Instead of betting on whether the total combined score of both teams will be OVER or UNDER the oddsmaker's set number or if one squad will cover the spread over the other, you're betting on the color of Gatorade to be dumped on the winning coach at Super Bowl 55.

All you need to do is select the shade you think will be poured on the head coach. Our Odds Calculator will tell you how much you'd win based on the odds and the amount you bet.

Unlike a traditional moneyline bet, there is no clear favorite. This isn't exactly a bet you can handicap since there's no distinct pattern. The color of carbohydrate replenisher a team has on the sidelines can vary from game to game. Even if the Kansas City Chiefs were to win Super Bowl 55, we don't know if red Gatorade will be the refreshment of choice for Patrick Mahomes and the Chiefs.
A Brief History of the Super Bowl Gatorade Shower
Nobody puts Jim Burt in the corner. After a 37-13 win over Washington during the 1984 season, the nose tackle decided that he wasn't getting enough playing time and was being treated unfairly during practice. While most of us use our words, Burt used Gatorade instead and dumped the entire cooler of sugar-water on Giants boss Bill Parcells.
The Big Tuna would be doused 17 times during the 1986 NFL season. Luckily, New York won the Super Bowl that year so it wasn't in vain. It was after this endless drenching of Parcells that the Gatorade bath would become a staple of football games until the end of time.
Super Bowl Gatorade Trends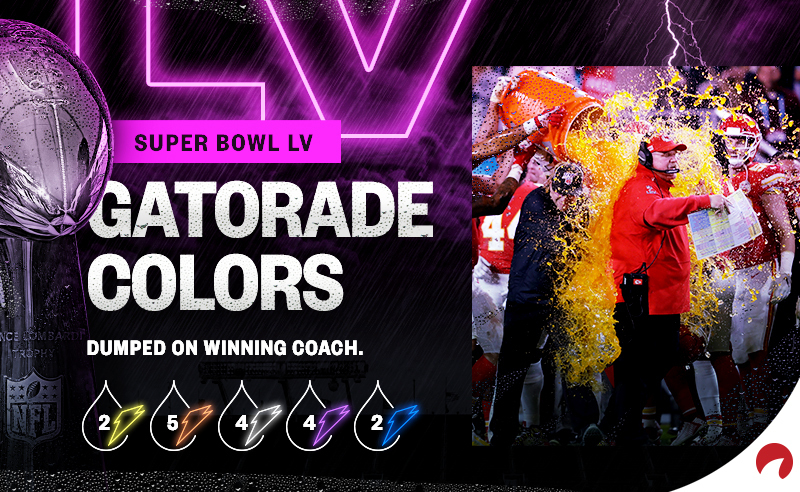 Since Super Bowl 35, only a select few winning coaches have escaped the victory soak. Dark overlord and head of the Foot Clan, coach Bill Belichick (New England Patriots), was spared a shower after wins in Super Bowls 36, 38 and 51. Handsome John Harbaugh (Baltimore Ravens) also stayed dry following Super Bowl 47.
When MetLife Stadium in East Rutherford, New Jersey hosted Super Bowl 48, the frigid temperature of 49 F did not deter Seahawks players from dousing Pete Carroll in a sea of ginger-toned Gatorade after they beat the Denver Broncos.
From 2007 to 2010, clear liquid – possibly watermelon/strawberry flavor or plain old water – was dumped on the winning coach. Purple and yellow have been used in two showers since 2000, but it is orange that has truly shined as the color of choice for winners from the NFC. This color reigned supreme with bosses of the bench Mike McCarthy (Green Bay Packers) and Sean Payton (New Orleans Saints) both being recipients of a carroty-hued shower.
IMPORTANT TREND ALERT: Since 2001, the color of Gatorade at Super Bowl games has only matched the team color scheme three times, with yellow being used on Mike Tomlin (Pittsburgh Steelers) and Bill Belichick twice getting doused in a blue mess.
To quote Mike Ditka, "If you've never had a Gatorade bath, you haven't done anything very exceptional." The NASA crew that put people on the moon probably takes huge exception to this statement.
What Color Was the Gatorade Shower

in Past Super Bowls?

We've put together this handy chart to show you the color dumped on the triumphant coach from past big games all the way to Super Bowl 54. With Super Bowl 55 on the horizon, it's time to take a look at the recent Gatorade results ahead of the big game in Tampa on February 7, 2021.
Super Bowl Gatorade/Liquid Shower Results

| Super Bowl No. | Liquid Color | Winning Team |
| --- | --- | --- |
| 35 | Yellow | Baltimore Ravens |
| 36 | None | New England Patriots |
| 37 | Purple | Tampa Bay Buccaneers |
| 38 | None | New England Patriots |
| 39 | Clear | New England Patriots |
| 40 | Clear | Pittsburgh Steelers |
| 41 | Clear | Indianapolis Colts |
| 42 | Clear | New York Giants |
| 43 | Yellow | Pittsburgh Steelers |
| 44 | Orange | New Orleans Saints |
| 45 | Orange | Green Bay Packers |
| 46 | Purple | New York Giants |
| 47 | None | Baltimore Ravens |
| 48 | Orange | Seattle Seahawks |
| 49 | Blue | New England Patriots |
| 50 | Orange | Denver Broncos |
| 51 | None | New England Patriots |
| 52 | Yellow | Philadelphia Eagles |
| 53 | Blue | New England Patriots |
| 54 | Orange | Kansas City Chiefs |