Slovakian technical specialist and current World Cup alpine overall points leader Petra Vlhová was crowned Snow Queen in Zagreb, Croatia Saturday holding a narrow lead under the lights in spite of a disappointing second run.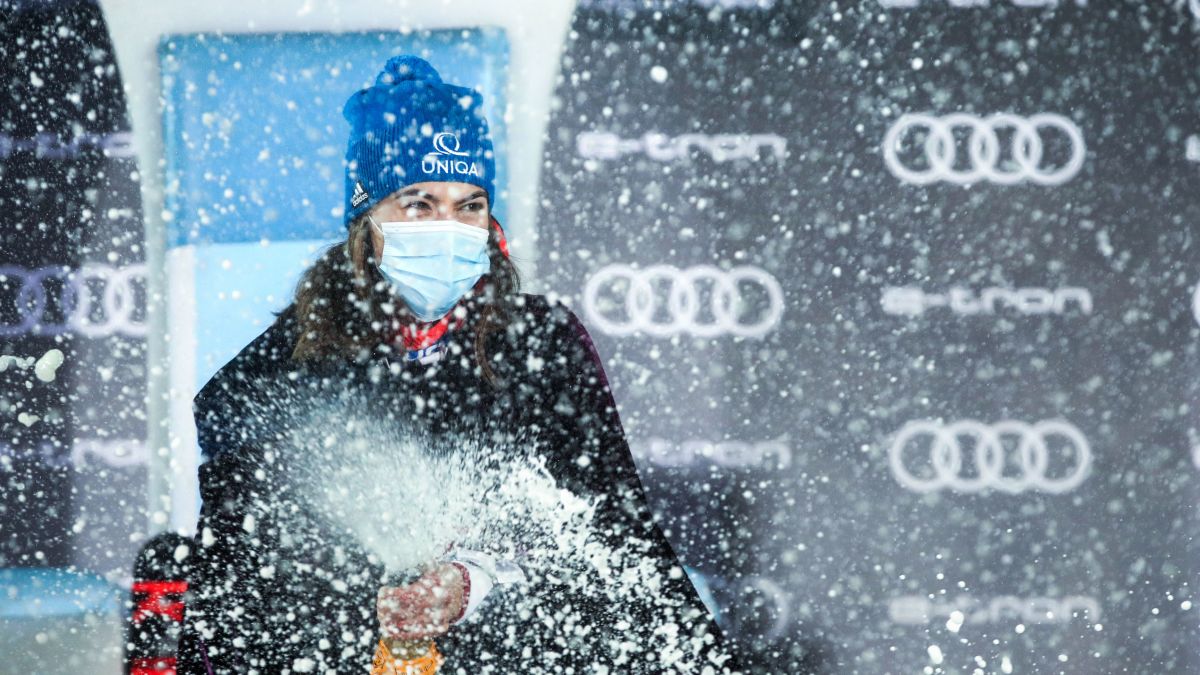 Vlhova held first after the first run by just 0.32 seconds per Austrian Katharina Liensberger, with Switzerland's Michelle Gisin, just off a slalom win last week in Semmering, in third only .38 back.
American skiing superstar Mikaela Shiffrin, who made headlines before the race with the announcement that she will not compete for the World Cup overall this season, was .42 seconds behind in a striking-distance fourth.
Presumptive 1-2-3 Happened with One Minor Exception
The second run was slower for all four competitors but did nothing to change the results as Vlhová, Liensberger, and Gisin went 1-2-3 with Shiffrin just off the podium by a fraction of a second.
"It was a really hard day for me today," Vlhová said immediately following the race. "I had to find my confidence again, and the entire day was a fight, especially the second run. When I saw I was only the 11th-fastest in the second run, I thought I was for sure out of the podium, but then the green light showed up, and I couldn't believe it."
? Slovak skier Petra Vlhová just repeated he last year's triumph at the World Cup slalom in Zagreb. In Sunday's race, she defeated Austria's Katharina Liensberger by five-hundredths of a second. This is already Petra's 18th World Cup triumph, 11th in slalom.
(Photo: TASR) pic.twitter.com/Pl5nqnm9p9

— Radio Slovakia Int. (@RSI_English) January 3, 2021
Being crowned Snow Queen is Vlhová's fourth slalom World Cup victory of the season—along with two third-place finishes in the giant slalom. She now has a 128-point lead in the overall over second-place Gisin, who earned her third podium of the season.
Liensberger's stock is on the rise as well, as Zagreb marks the Austrian's second second-place finish in as many races.
Kristoffersen Looks to Move Up on All-Time List in Snow King Wednesday
The men have arrived in Croatia to prepare for their slalom on Wednesday to compete for the Snow King crown in Zagreb. Leading the field is 26-year-old Henrik Kristoffersen (+350 on BetMGM) won the last World Cup slalom event in Madonna di Campiglio and seeks to become the first athlete since Daniel Yule won back-to-back World Cup men's slalom events last season.
The Norwegian technical specialist likes the start of the year as he has won 10 World Cup slaloms in January, more than half his career total of 18. Only slalom legends Ingemar Stenmark (50), Alberto Tomba (35), and Marcel Hirscher (32) have won more than Kristofferson as he makes his way into the prime of his career.
Also looking to start the new year off on the podium is Swiss veteran Ramon Zenhäusern (+500) who is back to take the crown after finishing second in Zagreb last year. Zenhäusern's teammate Daniel Yule (+800) is also gunning for a top-three finish. Yule has won three of the last eight World Cup men's slalom races, more than any skier in that timeframe.
How Bout Brit Dave Ryding Winning GBR's First World Cup Race Ever?
All-arounder Alexis Pinturault (+1200) has 31 World Cup race wins, and 64 podium finishes in the World Cup in all men's events combined. The Frenchman has shares the most podiums among active male skiers along with Kristoffersen.
Alex Vinatzer (+700) claimed had his slalom in Zagreb last year and can become the first Italian man to win a World Cup slalom race since Manfred Mölgg was victorious in Zagreb in January 2017.
Those who seek a long shot play can look no further than 34-year-old Dave Ryding (+8000), who on Wednesday can become the first alpine skier from Great Britain to win a World Cup race, period.