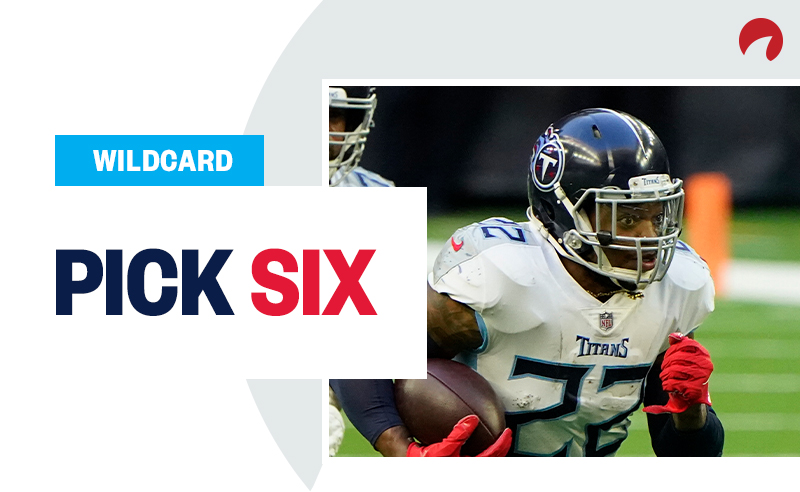 One of my favorite weekends of the betting season is the opening games of the NFL playoffs as there are upsets, backdoor covers and narratives either fulfilled or torched depending on the outcome. Welcome to The Pick Six: Wild Card Weekend Edition.
With six games this weekend instead of the traditional four, this format lends itself perfectly for me to give my best bet for each wild-card game. No parlays!
See Odds Shark's Best NFL Picks Sites
You may think some of my NFL best bets are square, but I'd rather be a square and win than a contrarian and lose. That's why I'll understand if you want to fade but take that route at your bank account's own peril.
NFL Wild Card Weekend Picks
IIf this is your first time checking out my NFL picks or you aren't sure what to expect, here's how it works: Each week during the 2020 NFL season, I give you my six favorite plays on the moneyline, spread or total.
All NFL betting odds below are courtesy of the latest lines as of this writing. The Pick Six will be presented weekly right up to Super Bowl 55.
If you're looking for more of my prop bets or touchdown scorer picks for NFL games, follow me on Twitter at @GDAWG5000 and all my prop picks will be there.
Here are my six favorite NFL picks for Wild Card Weekend:
Indianapolis Colts-Buffalo Bills OVER 51 (-110)
With two top-10 offenses and two overrated defenses, this game has OVER written all over it. Now, does it make me nervous that the majority of bettors are on the OVER and the total keeps going down? Yes, reverse line movement can be tricky, but let's not pretend that just because a line moves that it's the only possible outcome.
The fact remains that the Buffalo Bills may have the most explosive offense in the NFL and wear teams down defensively. The Bills have scored 26 or more points in eight straight games and put up 142 points over their last three going into the playoffs.
The Colts are frisky on offense too and will likely come out of the gate strong with a balanced rushing attack featuring Jonathan Taylor. The Buffalo run defense allowed 21 rushing touchdowns this season to rank 27th in the NFL. It wouldn't shock me if we also got some extra points via a defensive or special teams touchdown.
Colts vs Bills Game Center
---
Seattle Seahawks -3 vs Los Angeles Rams (-110)
After getting burned last week by the Seahawks spread, I waited and waited until we got the right number before locking this bet in. As soon as it dropped to Seahawks -3, I had to bet it. Look, Seattle may not be a fun team to back on the spread but at home, they've taken care of business. The Seahawks are 7-1 SU and 6-2 ATS at home with an average win margin of 10.8 points. When they hosted the Rams in Week 15, they dominated the game, winning 20-9. And that was with Jared Goff in the lineup.
Goff just had surgery on his broken thumb and while he's been practicing this week, I'm dubious he'll end up playing more than series in this game, if at all. If that's the case, the Rams will lean on John Wolford, who cut his teeth in Week 17 vs a scrappy Cardinals squad.
He looked good with his legs but only completed 57 percent of his passes and had no passing touchdowns. He will have WR Cooper Kupp back but he would need to play out of his mind to get this offense on track. I'm dubious the Rams can win on the road with Wolford, or a broken Goff, and keep this game within three points. Seahawks by a touchdown.
Rams-Seahawks Game Center
---
Washington Football Team +8.5 vs Tampa Bay Buccaneers (-110)
I considered taking Washington on the moneyline at +310 but decided not to get greedy and chose to back them on the spread instead. Why? It's because Washington's defense is not to be trifled with. The defensive line was a wrecking crew this season and the common strategy to disrupt a Tom Brady-led offense is to collapse the pocket. Seems easy enough.
Well, it's not only the defense that I think should have an impact – Washington's offense has been low-key decent this season with Alex Smith at quarterback. Sure, you probably won't see any 50-yard bombs downfield but the conservative approach by Smith is a spread bettor's dream. He will do just enough to keep Washington in the game but not throw it away with reckless passes. I think the Bucs likely win the game but it won't be in a rout like some bettors are projecting.
Buccaneers-Washington Game Center
---
Tennessee Titans Moneyline vs Baltimore Ravens (+155)
I know the Baltimore Ravens are the sexy team to bank on given how they finished the season but the Titans are a bad matchup for them. Titans RB Derrick Henry is such a load to deal with and attracts so much defensive attention that the Ravens will be in a position of "pick your poison" when it comes to stopping Tennessee's offense.
Another reason why I'm fading the Ravens is QB Lamar Jackson. As dynamic as he is offensively, he really struggles with accuracy on third down. We saw when the Ravens played the Chiefs and Titans earlier this season that they aren't very good at playing from behind. I envision the Titans striking first and holding the lead by running the ball with Henry all game long. Take a look at Titans TE Jonnu Smith to score a TD too. He's scored in the last two games in this matchup and is hovering around +150 in anytime touchdown scorer odds.
Ravens-Titans Game Center
---
Chicago Bears-New Orleans Saints UNDER 48 (-110)
I really tried to find a reason to take the Saints to cover the spread vs the Bears but at -10, it's tough to justify considering how their offense has looked. Sure, RB Alvin Kamara will get his but the Bears were one of the best teams in preventing rushing touchdowns this season, which means QB Drew Brees will need to do the heavy lifting. That part scares me.
The lock Hall of Famer hasn't looked sharp in his three games back from injury and could still be dealing with his battered ribs into this game. He's thrown for six touchdowns but his completion percentage has dipped and he's also thrown three interceptions. This furthers the point that I think this will be a low-scoring game.
On the other sideline is QB Mitch Trubisky, and without beating a dead horse, his inability to make quick decisions under a ferocious pass rush is a sure recipe for inaccurate passes, turnovers or balls thrown in the dirt. The horse is really dead now. If you're gonna bank on the Saints, just take the UNDER, or if you want to back the Bears, only take the +10 spread.
Bears-Saints Game Center
---
Cleveland Browns-Pittsburgh Steelers UNDER 47.5
We've seen this AFC North movie many times. The Browns get hyped up, finally have some momentum, then take a big dump on the field. Cleveland was 4-1 SU through five games before these teams met earlier in the season and was crushed 38-7 at Heinz Field. With the Browns without their head coach due to COVID-19, why would this week be any different?
The Browns run game is obviously their strength and should be able to keep them in this game but if over 50 percent of your offensive plays are to rush the ball, that just eats up the clock, which is horrible for an OVER bet. And don't sleep on the Browns defense, which has a stout defensive line and a secondary that will make Ben Roethlisberger have to make precise decisions. The only way this game goes OVER is if the Steelers put up 40 points by themselves and they haven't scored more than 27 points in a game since Week 9.
Browns-Steelers Game Center
---