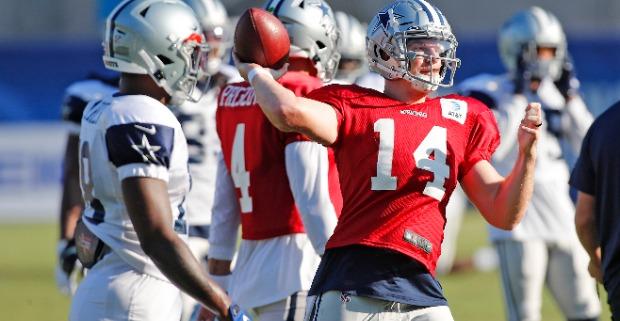 Needless to say, someone is only going to win NFL Comeback Player of the Year if, you know, he's actually playing. Thus, a bet on Dallas Cowboys backup quarterback Andy Dalton at +4000 on the William Hill moneyline odds to win the award this season is a waste of money unless Dak Prescott is injured because there's no way the Cowboys are going to bench Prescott for the "Red Rifle."
Dalton does give Dallas a very enviable situation as he could be the best No. 2 in the NFL or at least in the top couple. Dalton probably could have signed somewhere like New England or Jacksonville and had a much better chance of actually seeing the field in 2020, but he wanted to play near home during a pandemic. Dalton is from Katy, Texas, and of course starred collegiately at TCU before being a 2011 second-round pick of the Cincinnati Bengals. He got a one-year deal from the Cowboys worth up to $7 million in incentives.
"It's definitely a transition for me," Dalton said recently of entering a season as the backup for the first time in the NFL. "I've been starting the last nine years of my career."
Dalton is an obvious backup upgrade on Cooper Rush, who was waived in early May. Rush, an undrafted free agent out of Central Michigan, threw just three regular season passes for the Cowboys.
Prescott, meanwhile, has started every game of his NFL career: 64-for-64. It could be even more important to have a good backup QB this season because while Prescott has been durable, there's now the threat of COVID-19 perhaps sidelining a quarterback for a few weeks.
For what it's worth, a QB who entered the 2019 season as a backup won Comeback Player of the Year: Tennessee's Ryan Tannehill.
The only Cowboys player to win the award was defensive end Greg Ellis in 2007. They have another 2020 defensive end candidate as well in Aldon Smith, who is +2000 at William Hill. Smith has been drawing raves at camp after not playing since 2015 due to off-field issues.
WHICH 2020 FANTASY FOOTBALL SLEEPER SHOULD YOU SNATCH IN YOUR DRAFT? AND WHICH WR1 CANDIDATE CAN YOU WAIT ON UNTIL LATE? JOIN SPORTSLINE NOW TO GET 2020 FANTASY FOOTBALL CHEAT SHEETS FROM THE MODEL THAT WAS ALL OVER DERRICK HENRY'S HUGE SEASON, AND FIND OUT.