After another record-setting month, the industry is running out of superlatives to describe the New Jersey sports betting and online gambling markets. But at the same time, there's a creeping suspicion that the unbridled growth will jumpstart the same responsible gaming conversations that are taking place in Europe.
On the sports betting front, New Jersey sportsbooks handled $931.6 million in bets, resulting in $50.6 million of revenue. The first number is a record, while the second fell short of the state's revenue record of $58.5 million set last month.
On the ledger's online casino and poker side, New Jersey operators broke the $90 million mark for the second consecutive month. Still, the $91.8 million revenue haul was just shy of last month's $93.5 million record.
The complete November revenue report is available on the New Jersey Division of Gaming Enforcement website.
What About Land-Based Casino Revenue?
Land-based casino revenue had been holding its own since they reopened, but November was a different story. After a manageable 9.9% year-over-year decline in October, Atlantic City casinos saw revenue drop off a cliff in November, as revenues declined 34.6%.
The poor land-based numbers created a situation I never thought would come to pass, barring a total shutdown, online revenue outpaced land-based revenue. Land-based revenue was $146.6 million for the month, while online casino revenue was $91.8 million. And if we add online sports betting revenue to the mix, these numbers are virtually even.
Key Takeaways for Online Gambling and Sports Betting
As previously noted, New Jersey sports bettors wagered $931.6 million on the sports betting front at the state's licensed sportsbooks in November. That's a nearly 15% increase over October and a 66% increase year-over-year.
Year-to-date, New Jersey bettors have wagered over $5 billion with licensed sports betting operators. Online betting is leading the way, accounting for $4.6 billion of the total betting handle.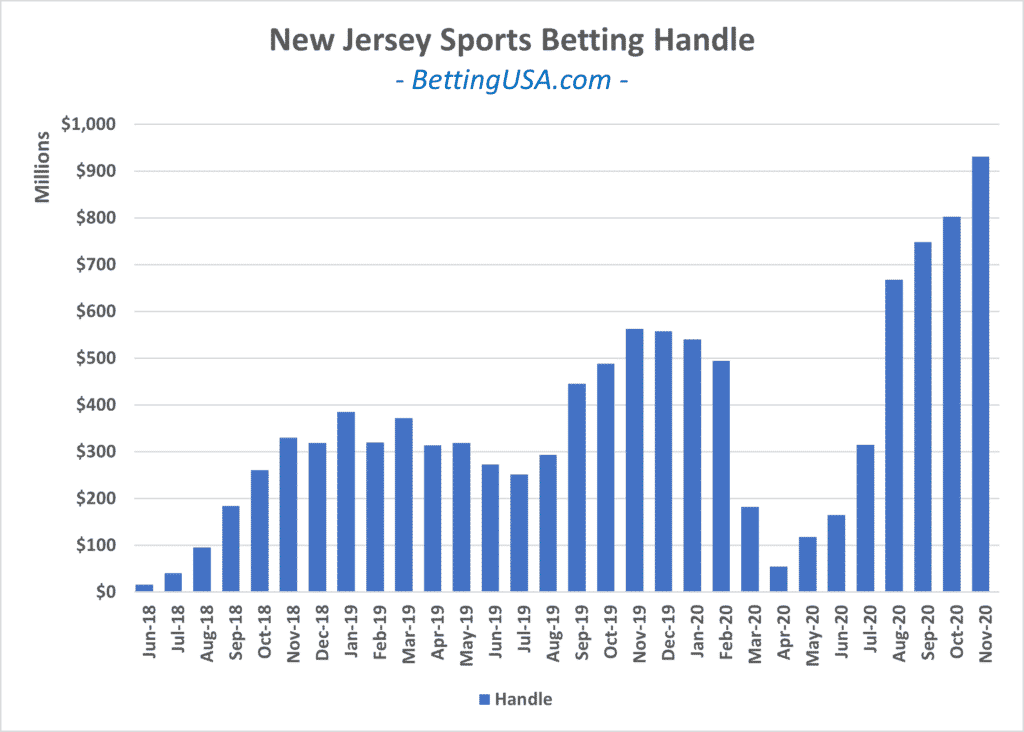 Online casino appears to be nearing its apex. The $93.5 million $91.8 million generated in October and November could be eclipsed in the coming months as COVID-19 is imposing significant restrictions on the land-based casino industry. However, when the current crop of vaccines are widely available, and people begin to revert to their old habits, online gambling is likely to experience a significant downturn.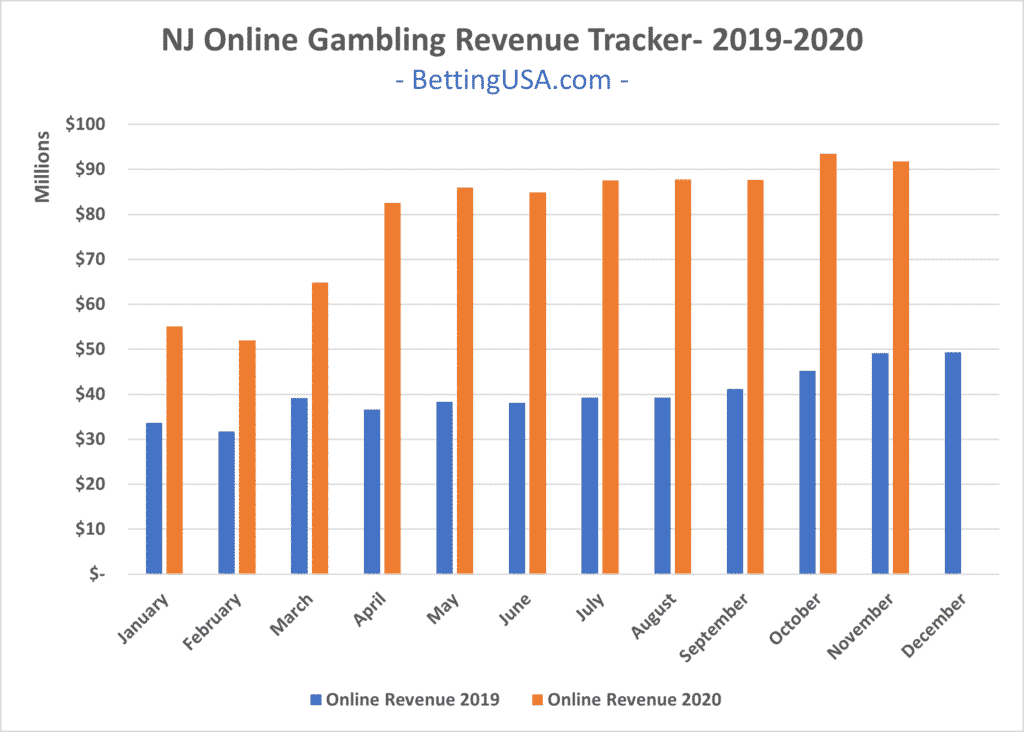 It's unlikely to return to pre-pandemic numbers, but the $90 million months could very well turn into $75 million months.
Three Things to Watch
Borgata (BetMGM) Is Going to Overtake Golden Nugget
Last month, I noted that Golden Nugget is starting to look over its shoulder as the online casino trail pack is now in view. The gap continued to shrink in November, as BetMGM not only has Golden Nugget in its sights, it's on the verge of overtaking it as the market leader.
For the month, BetMGM generated $23.4 million, while Golden Nugget generated $26 million. Resorts is also in the conversation with a $20.9 million haul.
To understand why Golden Nugget falling from the top spot would be a big deal, know that it has led (frequently producing twice as much revenue as its nearest competitor) since June 2016.
Ocean and Hard Rock are the #2 and #3 Casinos in the Market
On the land-based casino front, the two newest entries in the market, Hard Rock AC and Ocean Casino, have leapfrogged every casino not named Borgata.
The two casinos are also the only operators posting year-over-year gains since reopening.
| | | |
| --- | --- | --- |
| | November 2019 | November 2020 |
| Borgata | $59 million | $36.6 million |
| Hard Rock | $23.5 million | $28 million |
| Ocean | $19.5 million | $19.3 million |
In November 2019, Hard Rock and Ocean were the fifth and sixth-ranked casinos in the market. In November 2020, they ranked second and third.
We Need to Discuss the Elephant in the Room
If you'll indulge my inner Buzz Killington for a moment, a state with 9 million residents (and about 6.8 million over the age of 21) has taken $5 billion in sports bets in 2020. That works out to roughly $735 per resident. Estimates for online casino spend are double that number. If we (generously) assume that 25% of those bets are from out-of-state, we're looking at annual online gambling spend per New Jersey adult of $1,750.
Considering the percentage of people that gamble online (a 2015 study placed the number at just under 20%) and that it doesn't include land-based casino or lottery spend, this number is downright terrifying. Even if the number of online gamblers has doubled during the pandemic, the average New Jersey online gambler bets in the $3,500-$4,000 range annually.