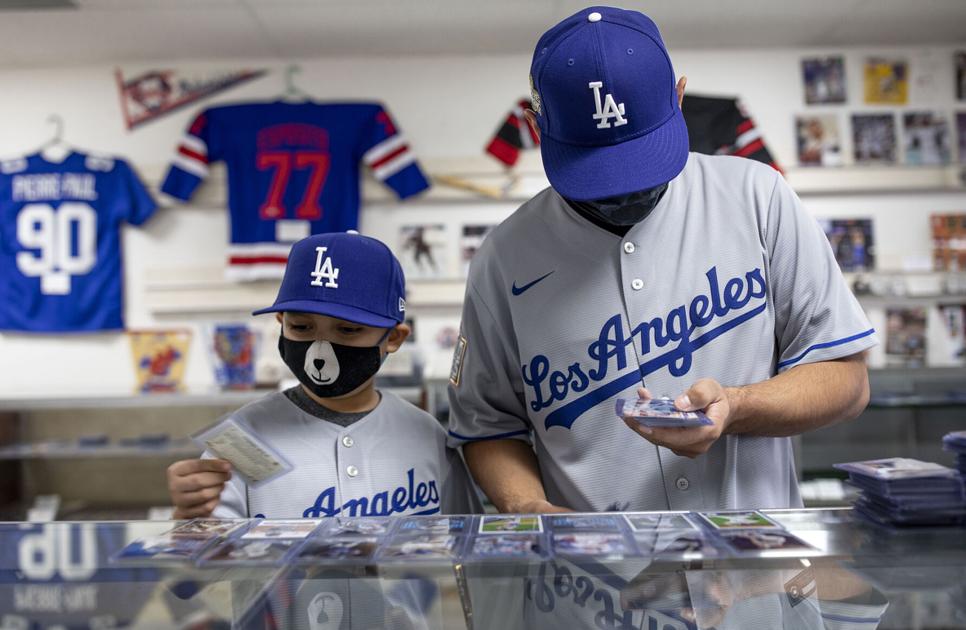 A father and son stroll into a Colorado Springs sports card shop, their Los Angeles Dodgers jerseys matching like their excitement.
The Lopezes are continuing their newfound mission: to track down every card of every player on their favorite, World Series-winning team.
"It's just brought us so much closer," Fernando says. And that's been especially meaningful for the father, deployed with the Army for two of Aaron's eight years.
It's commonly the case on these afternoons that Fernando comes by a favorite player of his from back in the day, and little Aaron pauses and learns before returning his attention to the stars of today — to the next addition of his binders, prominently featuring, of course, recent championship hero Mookie Betts.
"When the pandemic hit, there was nothing for us to really do," Fernando says. "So we made this our thing."
When the pandemic hit in March — when the sports world paused like the world at large — many made this their thing. Tucked in corners of closets and basements were card collections from better, brighter days. Youthful, innocent days. Men wiped off the dust and became like boys again.
"At the time when we shut down, I didn't realize people were gathering around, reconnecting with their sports cards," says John Harding, here at John's Sports Collectibles. "But it was happening. And now it's just blowing up."
Harding has kept the business going for 23 years now. "This'll be our best year in sales and profit ever," he says.
That's the story at other sports cards shops in Colorado and across the country — others like John's that have stood the test of time since the end of the industry's '80s and '90s heyday.
"This may be the second golden age of sports cards," says Mike Fruitman, owner of Mike's Stadium Sportscards in Aurora.
He was around for Pete Rose mania, as a child ripping open a Topps pack and finding his favorite player along with a stick of gum. There was Wayne Gretzy mania. Bo Jackson mania. Cal Ripken Jr. mania. Michael Jordan and Shaq mania.
"I don't think anything rivals what we're seeing now," Fruitman says.
Things were bleak that night in March, when in the middle of the Denver Nuggets-Dallas Mavericks game, the broadcast suddenly shifted. COVID-19 was shutting down basketball. Major League Baseball followed. Football hung in the balance.
"At that point," Fruitman says, "I flashed back to every work stoppage we ever had."
That included 1994, when bickering between baseball's millionaire players and billionaire owners effectively closed the season and ended card collecting for many. Cold business ruined the fun, making cynics of fans who had always found escape in the sport.
Then came this dark shadow in 2020.
"I thought, that's it," Fruitman says. "I've done this 27 years, I built this shop up, and COVID is going to take it away."
But then he got around to online sales — "case breaks," enthusiasts call them, when the moderator takes money virtually, breaks open cases, and reveals the cards to the customer, inciting jeer or cheer.
The "room" of 30 or 40 people was becoming 100. The nights were becoming much-anticipated events, as if the lost games themselves. "Sports cards became the new sports," Fruitman says.
And the business realities, as in real sports, were being learned.
They were being learned in April 2019, onlookers suggest. That's when famed entrepreneur Gary Vaynerchuk — Gary Vee to his 8.5 million Instagram followers — found himself on the popular Rich Eisen sports show discussing his passion for sneakers.
"I believe the culture of sneaker flipping is gonna bleed into sports cards," Vaynerchuk said, explaining that the inventory of Jordans and such was limited, while cards were more widespread.
"There's gonna be a $50,000 Zion card to be had out of opening a $6 pack," he said, referring to Zion Williamson, basketball's most buzzed-about youngster since LeBron James.
Eisen stopped his guest, appearing in disbelief. "What are you talking about? What do you mean?"
Vaynerchuk smiled wryly, like a knowing mogul. "I don't think people understand that sports cards are about to become a cultural phenomenon again."
Gary Vee was about right.
His Zion prediction was off by $50,000.
The 20-year-old's autographed rookie card went for $100,000 on eBay in June.
To be sure, this was a particularly rare card. Rare like the mint condition rookie card of a certain centerfielder that auctioned for $3.9 million in August. That Mike Trout card became the most valuable sports card in history.
Also this year, New Jersey-based Goldin Auctions dealt a pair of LeBron rookie cards for more than $1 million, along with that of another recent league MVP, Giannis Antetokounmpo.
American basketball appeals to a global clientele, helping to explain the astonishing demand. Through the first three months of the pandemic, basketball card sales were up 130% from the same period in 2019, Sports Collectors Daily reported. Baseball and football each saw spikes of about 50%, the industry source noted.
On eBay, one can find cards of elite and emerging players bidding for tens of thousands of dollars. The site is poised to top last year's card sales of $600 million.
And other secondary markets have popped up in the form of more online "breakers." Chris Keyser hosts his sales live on Facebook from the basement of his Loveland home, something he started doing at the onset of the pandemic.
"My wife would come downstairs and be like, 'Are you still doing this?'" he says. "I'm talking like 7 in the evening to 3 or 4 a.m. Box after box after box."
He struck a relationship with a supplier, set up an LLC, built a trusting customer base, created a separate bank account, and watched it swell.
"My average intake has been $67,000 a month for the last eight months," Keyser says. "Some months it was damn near $100,000. It's crazy, man."
Keyser is a "sneaker head" in the mold of Gary Vee, having cultivated an impressive social media following himself after years of flying to Los Angeles and New York to collect and flip the latest trends back home. Growing up in the Springs, some of his fondest memories are of opening sports cards alongside his dad and brother. He still keeps the Ken Griffey Jr. they pulled one afternoon.
But collecting as an adult? As a father of five kids without the interest? "Thinking of yourself as someone who collected baseball cards again at, you know, 40 years old, is just not who I was," he says.
But then he heard the business advice of fellow sneaker heads. He saw the kind of people joining the sports card craze.
"I've had people with liquid net worth of $500 million to multibillions tell me this is not a short-term thing," Ken Goldin, behind the auction house that sold the $3.9 million Mike Trout card, told ESPN. "Sports cards are part of their asset allocation from now on."
The average Joes, the typical, middle-class collectors in ball caps and jerseys, have tried their hand at investments, too. At John's in the Springs, they've traditionally gathered in the shop to drink beer and reminisce on Saturday trade nights.
But now there's a stronger, stranger temptation: those packs on the shelves selling anywhere from $10 to $300 and potentially keeping that autographed rookie card that could be worth thousands now, maybe millions someday. Like a company's stock, the card's worth depends on player performance.
To gamble or not to gamble?
"It's like Cripple Creek in here," Harding says.
Indeed, there's a side of today's sports card surge that has nothing to do with nostalgia and novelty and everything to do with serious loot. It's not unlike the popularizing sector of sports betting. Just as collectors daydreamed of games during the pandemic's lockdown, so they did of fortunes, of joining society's increasingly exclusive elite.
"I wonder how many lives are gonna be ruined from this," Keyser says. He predicts divorces, lost homes.
"It's created a channel of income for a lot of people, but it's taken from a lot of people, too. I've seen it myself. People get into it hot and heavy, and they get their face kicked in, because it is gambling."
No, he's no longer that kid opening the pack to find Ken Griffey Jr. It's a different thrill now, he says. "And it's a dangerous thing for me, because I love it."
But there's still a purity to sports cards. As pure as a Wayne Gretzky slap shot, or a Michael Jordan fadeaway, or a Mike Trout home run.
As pure as a father and son sifting through the 99-cent box at John's this afternoon.
The Lopez boys leave satisfied, a smile on young Aaron's face.
"When I look at him," Fernando says, "I think that's exactly how I was."