Colorado sportsbooks saw a small month-over-month increase in betting activity in October, recording $210.7 million in wagers in October compared to $207.7 in September.
However, the slight increase in bets was accompanied by a significant increase in revenue, $17.4 million versus $4.2 million, which resulted in $824,700 of tax revenue to the state.
But $824k Isn't 10%?
The state's share would be larger if it weren't for a tax deduction on promotional play sportsbooks are allowed to take. Per a document explaining the sports betting tax process on the Colorado.gov website:
"When you compare the reports from August 2020 and September 2020, you will see a few discrepancies in the calculations of the Total Taxes Due. September numbers are not quite 10% of the NSPB. That is because operators offered millions of dollars in free bets and promotional plays as sports started coming back online. In some cases, the tax credits exceeded the taxes owed, allowing operators to carryover a negative tax amount to the November 2020 Page 1 following month. These carryovers skew the numbers to show a lower tax rate. As we average the reports throughout the year, we should see them even out."
Essentially, the state adds free–play and promotional wagers to the total betting handle but allows operators to deduct promotional play (as well as the .25% federal excise tax on all wagers placed) before it takes its 10% cut of gaming revenue.
Without the free–play deduction and loss-carryover, the state would have received around $1.68 million in October. Instead, it took in just about half that amount.
As Steve Brubaker consistently points out, this is a policy (along with loss carryover) several states have adopted that significantly reduces tax burdens for sports betting operators and makes it difficult for a state to estimate revenue accurately.
Colorado Quickly Establishes Itself as a Top Sports Betting Market
Colorado's October handle tally places it just outside of the Top 5 sports betting markets in the US, trailing only New Jersey, Nevada, Pennsylvania, Illinois, and Indiana.
As the chart below indicates, there is a significant drop off after Colorado, which looks to be a solid Tier 2 market.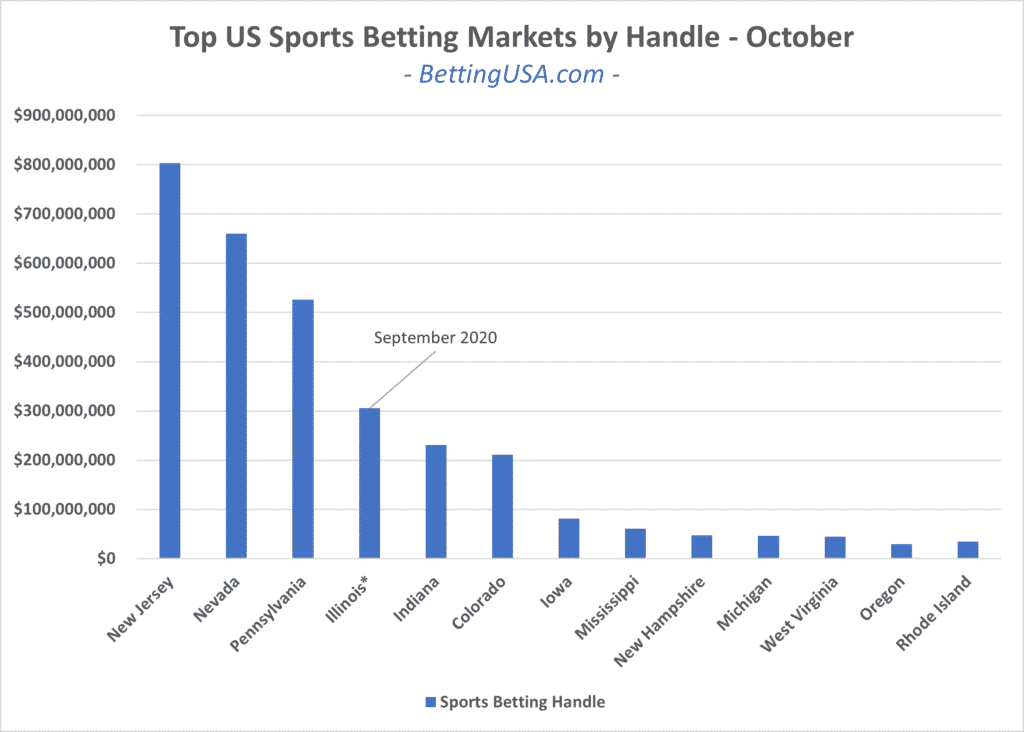 The Colorado sports betting industry dates back just a few months, and it's already bearing down on the more established Indiana market – Indiana sports betting went live in September 2019.
With Indiana no longer benefitting from the now-removed in-person registration requirement in Illinois, it's safe to assume that it will soon surpass the Hoosier State in betting handle, despite Colorado's significant population deficit – 6.73 million to 5.76 million.
Of course, Michigan is likely to spring past Colorado and Indiana when its online sports betting apps launch in the coming weeks.
Online Sports Betting Reigns Supreme
Colorado's $210.7 million was generated almost entirely online, as nearly 99% of all bets were placed through the state's online betting sites and apps, which now number 15:
Every state with legal retail and online betting sees the bulk of their wagers placed online, but Colorado stands out on that front. The disparity between online and retail betting is explained by ongoing COVID-19 restrictions and concerns and Colorado casinos' location (many of which are better classified as gambling halls). Unlike Nevada or Pennsylvania, Colorado casinos are in off-the-beaten-path locations.
More to Come in Colorado
The Colorado market is still in its infancy, and several high-profile operators are still waiting in the wings.
PointsBet launched in November, and Barstool christened its retail sportsbook at Ameristar Casino in Blackhawk, with an online launch of the Barstool Sports betting app expected in early 2021.
The early results should pique the interest of even more operators.