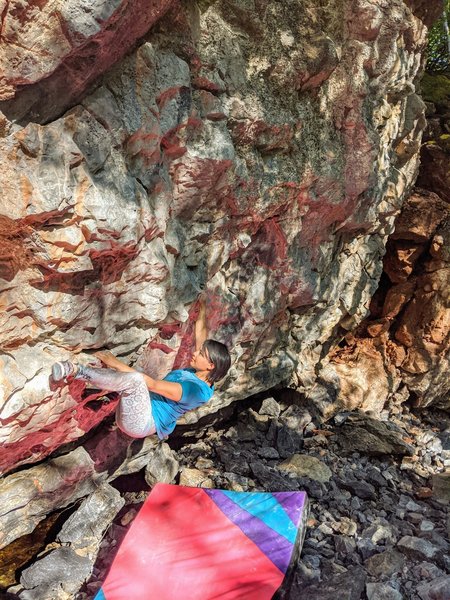 This problem when facing the cave with one's back towards the hike in, is to the right side. It is located in between a warm-up climb on a 'prow' and directly the left and overlapping with the end of the problem "Dead Can't Move", V3, FA: Paul Chaisson.
It starts matched on an undercling hold with low feet and traverses on some good holds with the feet still on the good feature. There is a big move to the right onto a decent hold, and then a tougher move up left into a slotted crimpy hold. Following this, the problem finishes matched to the right in another slotted hold (hence the name, slot machine), with feet on another feature far right.
*This problem has been sent on August 17, 2020 by Su A. Alteen, and in collaboration with local climbers in the West Coast NL Climbing Facebook group, it has been determined that it is highly possible that this line has likely been climbed in part or in full by others before, hence the "FA: Unknown" and this not being logged as a 'new' send.
Su is grateful that the local climbing community has encouraged her to 'write this problem up' for Mountain Project and in keeping with this name, "Slot Machine", suggested by Paul Chaisson while this was still Su's project.
A video of this problem is available on the West Coast NL Climbing Facebook Group for more detailed illustration of the start and finish. The grade is subjective and subject to change based on more climbers working it, and commenting about it. Su graded this climb V3 based on previous outdoor bouldering experience that has primarily been in the St. John's NL climbing areas, and therefore if the grade appears to be different from the above for others, this might be noted in the comments below. Thank you!