I know the old saying, "be careful what you wish for, you just might get it". I wished for a new defensive coordinator and by God I'm going to get one. After two years of a prearranged agreement between management and head coach Matt LaFleur, Mike Pettine will not be receiving a new contract to serve as defensive coordinator.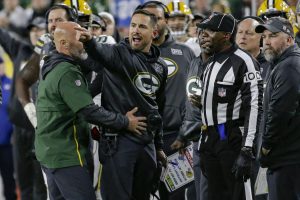 Believe it was prearranged if you want, I don't. I just think it was a no-brainer at the time to keep Pettine, who at the time seemed to have the defense on the right track. His defense did finish ninth in the league this past year, the same fatal flaws were evident all season and on full display in the NFC Championship game. It was time for a change. After two straight 13-3 seasons with a playoff win each year, the team will have two new coordinators next year. While we wait for the news of the new hire to come in check out this legitimate live dealer blackjack sites list. Have to find something to do now that football betting is down to its last game.
This will be the biggest decision LaFleur has had to make in his young head coaching career. The only way the Packers can do better than they did the last two years is to get to the Super Bowl, there is no incremental improvement allowed here. Throw in Aaron Rodgers, who now I guess is "hell-bent for revenge" on the Packers, and LaFleur better get this hire right.
As for who LaFleur does hire, of the candidates he is looking at Ejiro Evero and Chris Harris seem like intriguing candidates to me. Wisconsinites will be clamoring for the Badgers' Jim Leonhard, which I wouldn't complain about, but boy, is that taking a risk. Leonhard only has five years of college coaching experience. Yeah, I know he played 10 years in the NFL, but that doesn't automatically make him a good NFL coach. He has been wonderful with the Badgers, however, the last four years.
Harris played eight years in the league and immediately went into coaching. Evero is a rising young coach who was with the Rams with LaFleur in 2017. Matt Burke is another interesting candidate. He has 18 years of NFL coaching experience, including two as a defensive coordinator in Miami.
I hope it one of those four guys. Maybe leaning a little bit toward Harris.