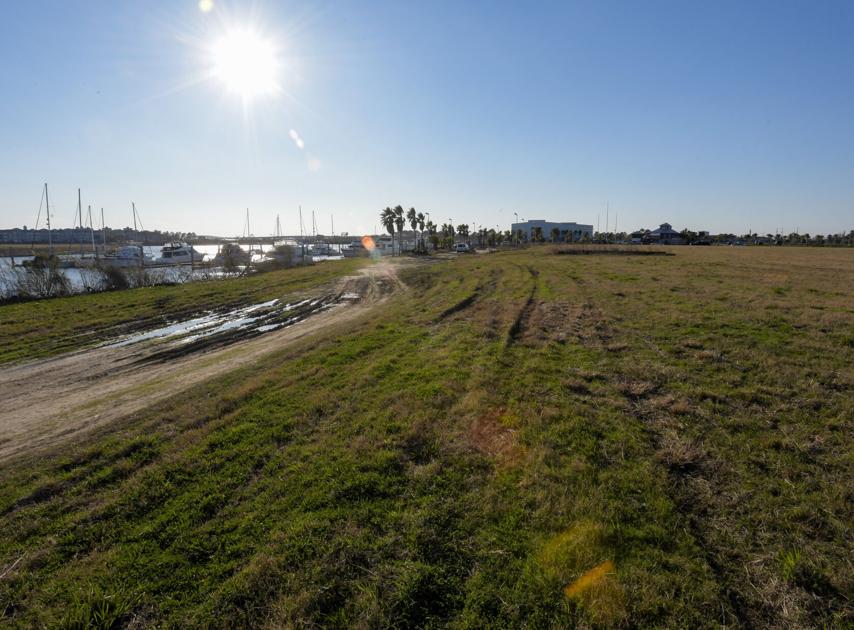 Before St. Tammany Parish voters can weigh in on whether they think a Slidell-area casino is a good idea, the state Legislature will have to approve a bill putting the question on a ballot — a hurdle that Tangipahoa Parish couldn't clear three years ago.
Peninsula Pacific Entertainment, which was unsuccessful in moving its riverboat license from Bossier City to Tangipahoa in 2018, unveiled plans Monday to move it to St. Tammany and build a $250 million land-based casino and resort at the foot of the Interstate 10 twin spans.
A bill seeking a St. Tammany referendum is likely to be filed for the legislative session that begins April 12, although it's not yet clear which lawmakers will sponsor it.
Sen. Sharon Hewitt, who represents eastern St. Tammany, said that the delegation "is prepared to do that if the locals want us to. It depends on the feedback from the public over the next few weeks."
A $250M casino-resort in Slidell is on the table, but will it happen? See plans, outlook
She said that there's plenty of time for public hearings and feedback about what people want and to address concerns.
Rep. Mary DuBuisson, who represents the Slidell area, said there has been talk about having the the entire St. Tammany delegation co-sponsor legislation, although others said they haven't heard that. Because it is a fiscal session, each lawmaker is limited to five non-fiscal bills.
DuBuisson and several other legislators that they've seen more openness from the public toward the idea.
On a survey she sent to constituents, DuBuisson asked them to check off a list of ways to meet local revenue needs, including bond sales, property taxes, sales taxes, a casino and video poker. Responses favored gambling, she said.
Rep. Larry Frieman said he asked if his constituents would favor allowing a vote on whether to have a casino or not, and the response was overwhelmingly in favor of allowing them to vote.
Some of the St. Tammany Parish residents who rejected riverboat gambling and video poker in a 1996 referendum have probably changed their minds, said Frieman, who represents a large section of northern St. Tammany. But he attributes the bigger difference to a post-Katrina influx of people from other parishes that allow gambling. "The makeup of the parish changed," he said.
Others, like Sen. Patrick McMath, pointed to the vote on sports betting that passed with 67% in the parish. "That was pretty telling — that was surprising to me. I do think opinions have changed over the last 20 to 30 years."
Even so, lawmakers are asking the St. Tammany Parish Council to adopt a resolution — described by Council Chairman Mike Lorino as non-binding — that supports the delegation filing a bill seeking a referendum.
The Parish Council will vote on the resolution at a special meeting at 6 p.m. Monday.
But Jake Airey, the Parish Council member who represents the area where the casino would be built, said Tuesday that he considers the resolution premature. He hasn't had enough time to meet with people who live near the site, he said.
Airey, who learned of the proposal right before Christmas, said he has questions about whether a casino that will rely heavily on gamblers from St. Tammany will be able to generate enough revenue to fulfill its promises.
"As broadly written as the resolution is, I just assume that people have a lot of questions, and I don't know if I can get them answered between now and Monday," Airey said.
The project is expected to bring nearly 1,700 jobs during construction and 1,900 during operations. The company is projecting that it will generate about $10 million per year in tax revenue for local government.
They are also offering $30 million to help pay for a sports and family entertainment complex and $5 million for the Slidell ring levee.
The referendum legislation will spell out ballot language that is specific to the Slidell-area project, officials said.
"In this instance, the referendum would only address the proposed entertainment and gaming resort," Parish President Mike Cooper said in an email Tuesday. "I would oppose any effort to broaden or expand the reach of this referendum."
Company reps met with some Parish Council members Tuesday and will meet with Slidell City Council members Wednesday.
Lorino said that the Parish Council will hold at least two public meetings, although those have not yet been scheduled. The council will likely vote to call a November election in June or July.
"This will be well known to the public before the vote," Hewitt said. "There will be nine months of marketing and public input and fine-tuning of the plan."