The Avatars: Gateway Guardians slot from Yggdrasil is yet another new and imaginative game from the company that takes the normal idea of a video slot machine and turns it on its side, or on its head, or just kind of keeps turning it around until you're dizzy, as you'll see. All the reels on this machine spin, but not in the way you'll be thinking. It's a new way of looking at video slots and a fun new way to play.
When you load up Avatars: Gateway Guardians you'll be greeted with a beautifully designed screen, as we've come to expect from Yggdrasil, with a multi-sectioned stone wheel in the centre. The wheel itself is divided up into six different sections, which serve just as six pay lines would on a traditional machine. There are actually three separate wheels that spin. The topmost section of the wheel is known as the hotspot and will trigger an automatic multiplier win anytime a win occurs in that section.
Wagering & Payout
Altogether there are seven symbols plus scatter symbols on the reels. Scatter symbols will also add their own additional hotspots onto the reels when they land. Four of the symbols are the godly face, the avatars, and the other symbols are made of lights that guide you through the gateway plus the scatter symbols.
The game may look a bit complicated at first, but once you've seen a few spins, you'll understand everything perfectly.
Setting up bets on Avatars: Gateway Guardians is quite easy to do. All spins are played with ten coins and you'll just need to pick the value of the coins you want to play with. You can choose from £.01 up to £ 20, so you have a minimum wager of £.10 spin with a maximum of £200.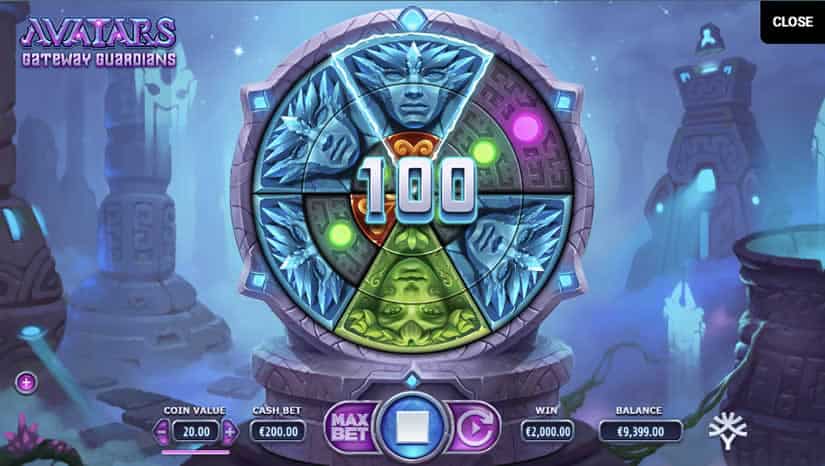 Play The Avatars: Gateway Guardians Slot Here
Yes – Why To Play The Avatars: Gateway Guardians Slot
This game is a must-see simply because of the unique design and game mechanics. Yggdrasil has done an excellent job of coming up with something that follows all the principles of a slot machine but just isn't quite a slot machine.
For those that like a lot of action, the game moves fast. It's designed and animated extremely well but there isn't a lot of time wasted between spins.
There's a generous return to player (RTP) rate of 96.3% and Yggdrasil has this game rated with a mid-range slot volatility level of 59.
If you are located in Canada, UK and other European countries, you are good to go. Yggdrasil Gaming casinos cater to players from your region.
No – Why Not Play?
This game is certainly not for everyone. For those who like traditional slots and even fun characters, you'll find none of that here. This slot is meant to appeal to a different audience.
This game plays very fast. It only takes a second or two for each spin to occur and you can even turn it up faster. Make sure you're aware of how much you're betting and how many spins you're making. You'll go through a lot of spins very quickly without realizing it if you're not paying attention to what you're doing.
Although the game is quite unique and has some beautiful symbols, because of the way everything is displayed you don't often get to actually see the full symbols, which kind of takes something away from the game. Most of the time you feel like you're just looking at a mixed-up puzzle of various faces.
Avatars: Gateway Guardians Slot Bonus Features
The bonus features on this slot are pretty straightforward. It may take a few spins before you figure out how they're triggered, but once you see how it all works you won't have any trouble telling when you're about to get some extra bobbles added to your balance. The basic bonuses you can get are multipliers on some wins and free spins.
The Hot Spot
Right away you'll notice a triangular portion at the top of the spinning wheels outlined in white. This is the hot spot. When a win lands in this area, you'll get a multiplier, and possibly more than one, added to your win.
When the feature triggers, a small door will open at the bottom of the wheel and a random number will appear. This will be your multiplier. From there, you can either get another number or you'll see a hand symbol which means it's time to collect your reward. The multipliers will keep adding up until the hand symbol shows up. It's possible to hit up to 101 times your original win whenever this feature is triggered.
Free Spins
Free spins are triggered whenever three free spin symbols stop anywhere on the wheels. They do not have to line up, they work as scatter symbols. When they hit, you'll be given 10 free spins.
What makes the scatter symbols special is that depending on how many of them do stop in the "hot spot" when free spins are triggered, you'll get additional hot spots during the free spins, which, of course, means tons of multiplier bonus opportunities. So, here's how many additional hot spots you get according to how many scatter symbols stop in the hot spot to trigger free spins:
So that means that any wins you land in the multiple hot spots during free spins will trigger the multiplier bonus. Needless to say, if you end up with 8 hot spots (which cover the entire wheel) you're going to be in for some serious bonus opportunities.