Onsdagar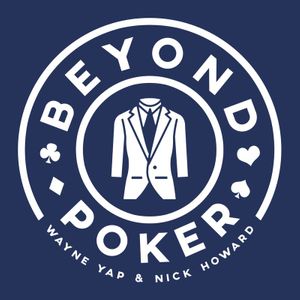 Bencb is widely seen as one of the best online tournament players out there. He made a name for himself when he took the top prize of over $250,000 in the SCOOP Main Event in 2014, and won the WCOOP Super High Roller 2016, where he won over $1.2 million in an event with the biggest buy-in of all time. He now runs Raise Your Edge, where he teaches players to plug their leaks, master preflop, and increase their win rate through a series of classes and articles. In this episode, Ben joins the podcast to talk to Wayne and Nick about how his values have changed as he's leveled up in poker, how he clarified his vision, and what it means to move in a more accelerated, harmonious way through your network without burning out. Key Takeaways How Ben combined his hobby of playing poker with a sustainable business model. How your poker skills can help you effectively outsource projects and operations without getting screwed over. Red flags to identify before doing business with a business advisor, lawyer, or accountant. Why you can't lose your confidence when you fail – and why this happens to so many poker players who try to enter other lines of business. Why you should start meditating – and how to create a practice of your own. Why poker isn't a single player game – and why mindset matters just as much as strategy. Get Access to the Show Notes To get access to the full show notes, including all the resources mentioned during the interview, visit BeyondPoker.com/14 Check Us Out On: BeyondPoker.com Wayne Yap on Instagram Nick Howard on Instagram Nick Howard on Twitter PokerDetox.com
Entrepreneur Magazine said that Wayne Yap's poker strategies will give your business an unfair edge and record profits, and enable you to make difficult, high-stakes decisions in seconds with limited information.
In the Beyond Poker Podcast, Wayne Yap and Nick Howard share original wisdom that earned them millions of dollars in poker. This podcast gives you front-row seats to eavesdrop on topics such as "Performance Resilience", "Type-A Performance Traps", "Life After Poker", "The Role of Intuition in Poker and Business" and "Simplicity Beyond Complexity".
This show will also go into topics like "7 Transferable Skills You Can Take From Poker to Business", "5 Opportunities After Poker", "The Number One Biggest Opportunity For Transitioning Poker Pros" and "The Quickest Way To Leave Poker and Profit"
Wayne and Nick will do bonus episodes and interview other Elite poker players (that have wisdom outside of poker) such as Elliot Roe, Matt Berkey, Jason Su, Kristy Arnette, Yuri Martins, Blake Eastman and Fedor Holz.
Wayne Yap was a nosebleeds poker pro that played the biggest games in Macau (think – Million dollar pots, betting houses and Ferraris). He is now an investor who buys and scales companies to prepare them for an exit.
Nick Howard spent the last 15 years moving up the ladder in professional poker from player, to coach, to his current position as CEO of Poker Detox, one of the most elite training companies in the industry.
More than just a podcast, Beyond Poker is a community for (1) Ex-poker players who moved into the positive-sum game of Entrepreneurship, and (2) Business Owners who love the game of poker.
The objective of the community is to maximize peak performance, "Group Flow" and "Elevation of the Collective", so that members can be at the cutting-edge of the business world.